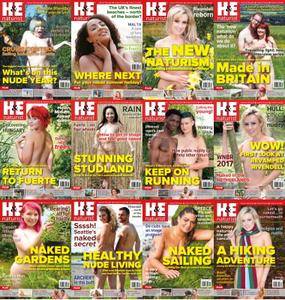 Kurzbeschreibung:
In the 1920s when nudists began publicising their activities and sun clubs began to form, Health & Efficiency became an early champion of their cause through publishing their letters, articles and photos. Later, this material occupied a greater proportion of the magazine, particularly as it absorbed other naturist and health periodicals, including Health and Vim and Sunbathing and Health Magazine.

After the Second World War, nudism became more popular and the monthly H&E – as it became known – promoted the lifestyle option, and throughout the 1950s and into the 1960s the magazine's reputation as the "nudist bible" grew. H&E's audience was made up of nudists who were members of British clubs and those who used British beaches. A small minority who were able to afford holidays abroad, and sampled French and Yugoslavian nudist facilities, provided H&E with the first "naturists abroad" travel reports. By the 1970s, cheaper foreign travel allowed many more British naturists to visit the south of France, Spain, Greece and Yugoslavia. H&E reflected this change and soon became an international naturist magazine providing news, travel reports, features and photography from around the naturist world.

H&E Naturist – January 2017
H&E Naturist – February 2017
H&E Naturist – March 2017
H&E Naturist -April 2017
H&E Naturist – May 2017
H&E Naturist – June 2017
H&E Naturist – July 2017
H&E Naturist – August 2017
H&E Naturist – September 2017
H&E Naturist – October 2017
H&E Naturist – November 2017
H&E Naturist – December 2017 ..